Simplify Data Management for Business Advancement
KoolZone Platform: Effortless IoT Monitoring
KoolZone delivers cutting-edge, user-friendly monitoring solutions. Our cloud-based platform securely gathers data from a range of sensors and devices, including those we provide or your existing equipment. Accessible from any device, our intuitive web interface eliminates the need for technical expertise and streamlines device deployment and management, regardless of the scale.
Our software empowers real-time insights, making Industrial IoT applications such as condition monitoring and data analytics seamless. With KoolZone, data management becomes effortless, propelling your business to new heights.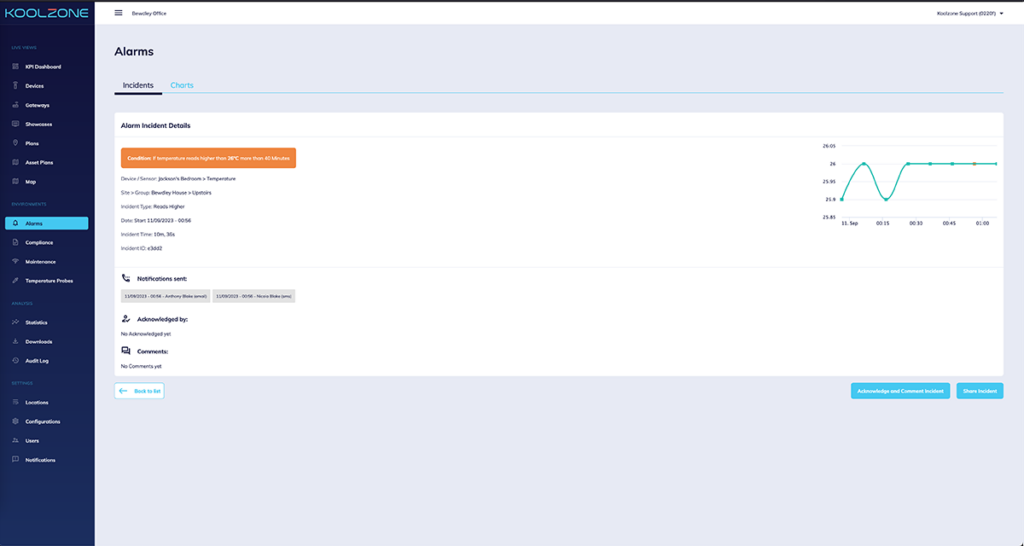 Customised Alerts and Notifications with KoolZone
Incidents and Notifications
KoolZone offers personalised alerts that notify you precisely when an issue arises. Define your alert preferences, be it phone calls, SMS, or emails, for instant notifications when values deviate from set thresholds.
Configure rules and data logic to detect equipment conditions and streamline workflows. With automated notifications and mass alert capabilities, manage scenarios effortlessly, regardless of device numbers.
Effortless Data Distribution
User-Defined Access
We enable seamless data distribution to authorized personnel, providing customizable access levels and roles. Our self-generated, legally compliant reports not only save time and reduce errors but also intuitively document issues.
With our highly granular audit log, you can effortlessly streamline your data management processes.